Window Cleaning In Preston.
Customer satisfaction is our main priority. We usually get to know our customers personally and naturally want to do our best for them. We will come as often as agreed upon - usually in 4 or 8 weekly cycles with other options available on request.
This means we come rain or shine, thus maintaining the regularity your windows need. Please be assured this does not affect the result!! The pure water method is completely different and more versatile than the traditional cleaning method.
Residential Window Cleaning In The North West.
We visit a variety of properties throughout Lancashire and always adhere to our time keeping schedule. So whether it rains as we are cleaning or the day after our visit, it won't make the slightest difference - they will still look great in time for our next visit, hence maintaining clean windows all year round.
Why Us?

Professional
Punctual
Uniformed Staff
Fully Qualified
Latest Equipment
Areas We Cover On A Regular Basis!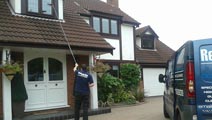 This relatively new method of window cleaning has revolutionised the cleaning industry as its many benefits far outweigh other cleaning methods.
How our high reach window cleaning system works is simple:
By using 100% pure laboratory graded water which is then pumped through carbon fibre telescopic poles, we are able to access and clean windows to heights in excess of 60 feet (5 floors).
There are no Health and Safety risks impeding its use in any way, making it by far the safest and most cost effective method of cleaning, with excellent results .
Get a FREE Quote.
Tel: 07548 122 209

Gutter cleaning!
Professional Gutter Cleaning? Look no further than Reach and Clean.
We are a preston based window cleaning company servicing both commercial and residential properties. We offer a wide range of services tailored to your needs.
Call us or Request a Quote for Pricing & Details.
Telephone: 07548 122209